We at Scrapping Everyday Miracles have a great March mid-month mojo maker for you!
I struggle with multi-pic layouts so I swapped out the pics for my journaling blocks and made the circle the picture spot. The scrap twist is to use buttons so I added these cool Prima Craftsman wood buttons and ribbon from the ScrapThat March kit! I created the flowers with Tim Holtz Tattered Florals die, inspired by this Tute from the talented Lisa Gregory. The Swirly Chippie is a beauty by Blue Fern Studios that I covered in gold Rub n'Buff and crackled.
The verse that came to me is Psalm 51:6,
Behold, You desire truth in the inward parts,
And in the hidden part You will make me to know wisdom
I struggle with a few physical disabilities and sometimes become frustrated with why I have them and need the multiple medications that are needed to keep my mind and body in balance. I have stepped out in faith of healing and ceased taking the various medications for the conditions. I soon became overwhelmed with my symptoms and gradually realized that I was not functional without the medications. I was angry and disappointed that God did not do as I requested in faith. I am slowly coming around to realize that just because I don't know why the workings of my mind and body are the way they are,He created me just this way for His purpose, not my agenda. In time, I pray I will learn what it is He is trying to teach me.
So..enough about me..we want to see YOUR creations with this versatile sketch!
One winner will be chosen randomly and could win this:
This month's sponsor is
ScrapChicKits
and here is what the owner Sue has to say about it:
"I got started into scrapbooking from Bernadine Segui who is an American fluent in French who has a website in French and does amazing design work. Here is her link for any of you who speak French.
I wanted to bring some of her products together into kits for the English speaking and that's how Scrapchickits got started. I love family history and scrapbooking can make our history so bright and creative. My store features quality products from Websters, Crate Paper, Pink Paisley and more at a very reasonable price. My shop is on Etsy so it is really easy to find and to order.
ScrapChicKits. Happy Scrapbooking!"
And now for the prize that Sue has so generously donated: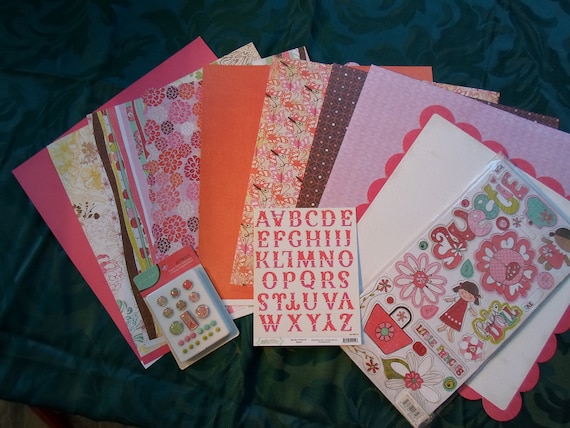 This kit is especially designed for your little girl who loves do
lls, dress up and flowers. It is luscious pink and turquoise. Look what you get inside: 3 Crate Paper Cottage Collection papers, 1 Crate Paper Paper Doll Collection paper, 4 Crate Paper Pink Plum Collection papers, Crate Paper Chipboard Paper Doll Accents, Crate Paper Paper Doll Glazed Brads, 18 inches turquoise ribbon, My Minds Eye Alphabet.
One winner will be chosen randomly.
**NOTE: You may submit the project
you create for Scrapping Everyday Miracles to other challenge blogs
but your project must be
mainly created for the Scrapping Everyday Miracles challenge
in order to win the sponsor prize**
All entries must be linked to the main SEM site by March 31st, 11:59pm PST.

*Important: Make sure your link is to the blog post with your project & not just your blog in general...and be sure to remember the SCRAP TWIST!